October 17, 2014
Bed Bugs Can Cause Long-Lasting Anxiety, PTSD Symptoms
the Psychiatry Advisor take:
Having your dwelling infested with bed bugs isn't just an inconvenience with the extensive cleaning of all clothing and linens that could be hoarding the insects. It could also lead to severe anxiety and even symptoms similar to post-traumatic stress disorder (PTSD).
In one study, Stéphane Perron, MD, of the University of Montreal, Canada, administered questionnaires to tenants in several Montreal apartment buildings with reported bed bugs. The tenants with bed bugs were far more likely to report issues with anxiety and sleep disturbances vs. those without.
Jerome Goddard, PhD, and colleagues at Mississippi State University analyzed posts on bed bug-related, comparing them against a checklist of symptoms of PTSD. Of the individuals writing posts, 81% described psychological and emotional effects often associated with the disorder, including hypervigilance, paranoia, obsessive thoughts, and depression. However, the mental health of the participants prior to bed bug infestations was unknown in the studies.
In one case study published by Perron, a woman with a prior history of mental illness got bed bugs and eventually committed suicide, with the bed bugs as a major life event that could have increased her risk of suicide. As long as bed bugs continue to invade living quarters, research is needed to better understand the lingering psychological impact and effect on those with existing risk factors for mental illness.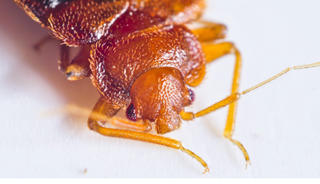 Bed Bugs Can Cause Long-Lasting Anxiety, PTSD Symptoms
Stéphane Perron, MD, of the University of Montreal, has published a number of papers on the psychological ramifications of bed bugs. In one study, he and his team looked at apartments that had been reported to the Montreal Public Health Department for unsafe conditions. Some of those units were infested with bedbugs, but not all of them.
Perron and his team gave the tenants of these buildings a series of questionnaires that assessed all sorts of health impacts, including psychological ones. All told, 39 of the units had bed bugs, and 52 of them didn't. When they compared the psychological results between those two samples — a method that helps to control for factors that impact mental health like socioeconomic status — they found that tenants with bed bugs were far more likely to report anxiety and sleep disturbances than those without.
Sign Up for Free e-newsletters
Check out what's trending