October 17, 2014
Treating Mental Illness Behind Bars
the Psychiatry Advisor take:
The drastic reduction in the number of hospital beds for psychiatric patients at state hospitals over the last 60 years had led to a dramatic increase in the number of people in prison with mental illness. One estimate says that there are 10 times as many mentally ill persons in prisons than in state hospital beds.
The relatively small number of beds available has led to another major problem: The clogging of hospital emergency departments with psychiatric patients with nowhere to go and not enough resources to treat them, according to David R. Rubinow, MD, chair of the Psychiatry Department at the University of North Carolina School of Medicine.
"The increased acuity of patients and the inadequate financial support for hospital staff result in an increased incidence of violence and injury and a reluctance to admit new patients," Rubinow writes in the American Journal of Psychiatry. "After discharge, mentally ill patients without follow-up treatment deteriorate and wind up exhibiting behavior that routes them through the revolving door of the emergency department or to jail. And once in jail or prison, those with mental illness often do not receive adequate treatment"
Citing a report from the Treatment Advocacy Center, Rubinow says that implementing jail diversion programs and promoting the use of assisted outpatient treatment for at-risk individuals are ways of improving mental health for prisoners.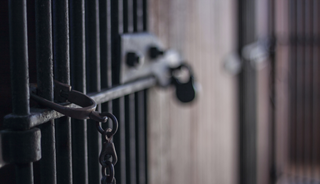 Treating Mental Illness Behind Bars
In the 1840s, Dorothea Dix traveled the country confronting state legislatures about the unconscionable treatment of prisoners and urging, in particular, the building of hospitals for those with psychiatric illness. By the 1880s, there were 75 psychiatric hospitals in the United States, and a survey estimated that less than 1% of prisoners had mental illness.
Then it all came undone. In 1955, approximately 560,000 patients occupied state hospital beds; today the number is approximately 35,000. It is no mystery where the patients went: In 1880, 0.7% of U.S. prisoners had serious mental illness; in the 1970s, the rate was approximately 5%, and today it is likely more than 20% (an estimated total of almost 360,000 inmates).,/p>
Sign Up for Free e-newsletters