March 18, 2015
Socially Disadvantaged More Likely to Be Misdiagnosed
the Psychiatry Advisor take:
Socially advantaged therapists are more likely to misdiagnosis patients who belong to disadvantaged groups compared with advantaged patients, according to a study published in the journal Social Psychological and Personality Science.
In a previous study, the researchers found that clinicians looked at information differently based on their patients' ethnicity and race during mental health intake.
This new study focused on community mental health clinics in three cities in Israel, where patients tended to belong to the low or middle class. Specifically, the researchers looked at how therapists' encounters with Mizrahi (Jews of Asian/African descent) and Ashkenazi (Jews of European/American descent) patients differed.
After therapy sessions, patients completed a structured diagnostic interview with an independent interviewer. The researchers compared therapists' evaluations with the independent interviews for diagnostic accuracy.
The researchers found that therapists who belonged to a socially advantaged group were twice as likely to misdiagnose a patient from a socially disadvantaged group. Additionally, therapist-patient relationships tended to be worse with disadvantaged patients compared with a socially advantaged patient.
The current study did not explore the reasoning behind this bias, but the researchers believe it could be due to favoritism or cross-cultural difficulties. They hope to further explore the mechanisms behind this diagnostic bias in future studies.
Ultimately, the researchers hope to develop training programs to increase diagnostic accuracy for therapists who work with diverse client populations.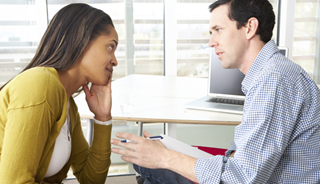 Socially Disadvantaged More Likely to Be Misdiagnosed
The shooting of an unarmed teenager in Ferguson, Mo., has ignited a global discussion about implicit racial bias. One group of people you might think would be immune from this hidden bias is clinical therapists, people trained to understand the human mind. But a new field study finds that the social identities of patients and their therapists affect the accuracy of the diagnosis: Therapists were twice as likely to misdiagnose mental illness when their patients were members of a disadvantaged, compared to an advantaged, group.
The researchers followed patients during the intake sessions with their therapists. Afterward, they asked the patients to complete a separate structured diagnostic interview (called the MINI) with an independent interviewer. Therapists also completed study measures immediately following their sessions. Comparing the therapists' evaluation with the evaluation obtained from the independent interview provided the researchers a measure of diagnostic accuracy.