July 07, 2015
Restraints, Confinement Still Common For Many Psychiatric Patients
the Psychiatry Advisor take:
Despite the fact that the practices can potentially cause harm to patients, a significant number of psychiatric patients in hospitals are subjected to physical restraints or other forms of confinement, according to a Canadian study.
Tina Mah, PhD, vice president of planning, performance management and research at Grand River Hospital, Kitchener, Ontario, along with researchers at the University of Waterloo, Waterloo, Ontario, found that nearly 25% of psychiatric patients at hospitals in Ontario are restrained using techniques such as chairs that keep a person in a seated position, wrist restraints, or isolation rooms.
In addition nearly 20% of psychiatric patients are given acute control medications by clinicians in order to manage them in situations that are considered dangerous, the researchers wrote in the journal Healthcare Management Forum.
"Control interventions are not ideal because they counter a patient-centered approach to care and can damage therapeutic relationships while further stigmatizing patients," Mah said in a statement. "There are also organizational implications of control interventions use including increased costs of care, reputational harm and exposure to potential litigation."
The study argues that earlier diagnosis of mental illness would help to avoid patient crises and lessen the use of physical restraints. In addition, clinicians should not use restrictive measures on patients when a psychiatric emergency is not occurring.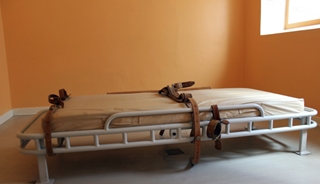 Nearly 1 in 4 psychiatric patients in a study were subjected to physical restraints, isolation or given acute control meds while in hospital.
Providers of mental-health services still rely on intervention techniques such as physical restraint and confinement to control some psychiatric hospital patients, a practice which can cause harm to both patients and care facilities, according to a new study from the University of Waterloo.
The study, which appears in a special mental health issue of Healthcare Management Forum, found that almost one in four psychiatric patients in Ontario hospitals are restrained using control interventions, such as chairs that prevent rising, wrist restraints, seclusion rooms or acute control medications.
Sign Up for Free e-newsletters