August 11, 2014
Patients' Relationship With Clinician Has Slight Impact on Outcomes
the Psychiatry Advisor take:
The self-reported quality of a psychiatric patient's therapeutic relationship with their mental health provider has a small impact on instances of self-harm and suicide attempts, according to researchers.
A therapeutic relationship is defined as the interaction between patients and clinicians through the delivery of mental health treatment.
Simone Farelly, PhD, off Health Service and Population Research Department in the Institute of Psychiatry at King's College London and colleagues sought to examine the relationship between a therapeutic relationships and patient outcomes later on.
The team examined 569 patients with psychotic disorders and care coordinators in a community settings and patients were asked to rate their relationship with their coordinator. Of the population, 74% had a diagnosis of schizophrenia spectrum disorder, and 26% had an affective disorder with psychotic features.
In the two years prior to baseline assessment, all had been admitted to a psychiatric ward at least once. Among the health professionals, 62% were community psychiatric nurses, 31% were social workers and 7% were 'other' including psychiatrists and occupational therapists.
Outcomes were evaluated 18 months later. A small but significant association was found between service user ratings for therapeutic relationships and instances of psychiatric hospital admissions, self harm and suicide attempts over that time, the researchers reported in Psychiatric Research.
"One potential explanation for these somewhat equivocal findings is poor operationalization of the [therapeutic relationship] in community or secondary settings," the researchers wrote. "Mental health care in the community may not be voluntarily sought by service users.
"Further, while there is often a primary contact, service users may interact with several members of a team, such as a nurse, vocational worker or psychiatrist and there is often regular turnover of these staff. In this context, measures defining a [therapeutic relationship] as a bond or agreement between individuals may miss an important aspect of service users' experience such as the sometimes involuntary nature of the relationship and multiple clinicians service users may have contact with."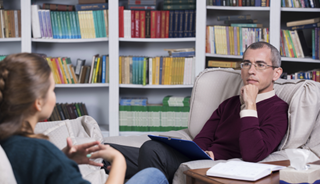 Patients' Relationship With Clinician Has Slight Impact on Outcomes
Therapeutic relationships are considered a key component of good psychiatric care, yet its association with outcomes for individuals with psychosis remains unclear. Five hundred and sixty-nine service users with psychotic disorders and care coordinators in community settings rated their
therapeutic relationship
; outcomes were assessed 18 months later.