March 20, 2018
Most Patients Comfortable With Clinicians Asking About Sexual Orientation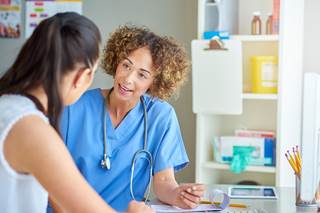 The majority of patients do not mind their physicians asking them about their sexual orientation.
HealthDay News — The vast majority of patients (97%) are comfortable with health providers asking sexual orientation and gender identity (SOGI) questions, according to a study published online in Health Services Research.
Jordan E. Rullo, PhD, from the Mayo Clinic in Rochester, MN, and colleagues assessed 491 new patients' attitudes towards intake forms at 3 outpatient clinics within a large academic medical center. Patients were randomized to receive either routine intake forms or routine forms plus a SOGI questionnaire.
The researchers observed no significant differences in patient attitudes between the two groups (P >.05). Only 3 percent of those receiving SOGI questions reported being distressed, upset, or offended.
"Our results should help ease the concerns of providers who want to deliver the highest-quality care for their patients but may not ask sexual orientation or gender identity questions for fear of distressing or offending their patients," a coauthor said in a statement. "These questions will help Mayo Clinic identify the unique, unmet needs of LGBTI patients and highlight that equitable care for all people is a top priority."
Reference
Rullo JE, Foxen JL, Griffin JM, et al. Patient acceptance of sexual orientation and gender identity questions on intake forms in outpatient clinics: a pragmatic randomized multisite trial [published online March 9, 2018]. Health Serv Res. doi:10.1111/1475-6773.12843