January 21, 2015
Patient Complaints Affect Docs' Anxiety, Depression Levels
the Psychiatry Advisor take:
Doctors who go through a complaint process or investigation by the General Medical Council (GMC) have an increased risk of exhibiting moderate to severe anxiety, depression, and thoughts of self harm, according to a study from Imperial College London.
The GMC regulates doctors in the United Kingdom and has the power to terminate or limit their right to practice medicine. In 2013, the GMC received 8,500 complaints about doctors, approximately 3,000 of which were investigated. Annually, about 80 doctors are suspended or lose their medical license in the United Kingdom.
The researchers surveyed 7,926 doctors in the United Kingdom. Those who recently had a complaint filed against them were twice as likely to exhibit symptoms of moderate to severe anxiety and twice as likely to have thoughts of self harm compared with those without complaints filed against them.
Among doctors who had their complaints escalated to the GMC, 26% reported moderate to severe depression, and 22% reported severe anxiety.
The complaints process can lead to the practice of defensive medicine in doctors who had undergone the process as well as their colleagues who witnessed it. Among both of these groups, 84% said they overprescribed medications, referred too many patients, or ordered unnecessary tests. Additionally, 46% said they were reluctant to treat complicated patients or perform risky procedures.
Noting the negative effects the complaints process has on both doctors and their patients, the researchers stress the need for a new system that eliminates these detrimental outcomes.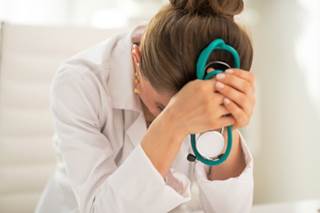 New system needed to reduce negative effects on both doctors and patients
A recent study conducted at Imperial College London has revealed that doctors who go through a complaints process or an investigation by the General Medical Council (GMC) suffer from anxiety, depression, and even suicidal thoughts. Doctors who face complaints or even doctors who see colleagues in this situation undoubtedly change the way they treat their patients, and not for the better.
"Of course it's essential that when things go wrong, the reasons are properly investigated," Professor Tom Bourne, lead researcher from the Department of Surgery and Cancer at Imperial College London, said in a statement. "But this study suggests that the regulatory system we have in the UK has unintended consequences that are not just seriously damaging for doctors, but are also likely to lead to bad outcomes for patients. We think this needs to be looked at carefully by policy makers."