April 24, 2017
Psychosocial Factors, Risk Behaviors in HIV Improved by Intervention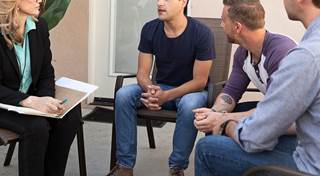 HIV risk behaviors in Hispanic/Latino MSM were reduced with the use of a group intervention.
A new intervention successfully reduced the amount of HIV risk behavior in the community of Hispanic/Latino men who have sex with men, according to a study published in American Journal of Public Health.1
Bisexual, gay, and other men who have sex with men (MSM) account for two-thirds of all new HIV infections in the United States, and if those rates continue, it is estimated that 1 in 4 Hispanic/Latino MSM will contract the virus in his lifetime.1,2,6
In order to reduce those infection statistics, Scott D. Rhodes, PhD, and chair of social sciences and health policy at Wake Forest School of Medicine, in Winston-Salem, North Carolina, created a community-based participatory research intervention program, which they called the HOLA en Grupos intervention. HOLA en Grupos was a 2-group randomized intervention-comparison group design in participants recruited at gay bars and clubs, community colleges, Hispanic/Latino-owned businesses, and at community events; through social media; and through word-of-mouth.
This intervention focused on increasing condom use and HIV testing in the Spanish-language MSM population. The researchers selected consistent condom use as a primary behavioral outcome because of its demonstrated effectiveness for preventing HIV. Self-reports were chosen as a measurement because an individual's knowledge of their own HIV status can reduce transmission, and because HIV testing is a potential gateway to HIV care for people who are infected.1
Eligible study participants included individuals who self-identified as a Hispanic/Latino male or transgender person, age 18 or older, spoke fluent Spanish, reported male-to-male sexual contact since 18 years, and provided written informed consent. Between December 2012 and February 2015, 304 Hispanic/Latino MSM, ages 18 to 55, were randomly assigned to either the 4-session HOLA en Grupos intervention or a control group that consisted of a general health education intervention. The participants completed a baseline assessment as well as an assessment at 6-month follow-up.
At 6-month follow-up, intervention participants reported an increase in condom use from 33.3% at baseline to 65.0% (P <.001) at follow-up, while the comparison group participants demonstrated little change (37.5% vs 35.65%). The HOLA en Grupos participants also self-reported an increase in HIV testing from 32.45% at baseline to 80.26% at 6-month follow-up (P <.001). Again, the control group did not demonstrate statistical change (31.85% vs 27.63%).
The researchers also observed marked differences in psychosocial factors from baseline to 6-month follow-up. HOLA en Grupos participants reported increased HIV/STI knowledge (P <.001), condom use skill (P <.001), condom use expectancies (P <.001), and sexual communication skills (P =.01).1
"Because of the recent development of biomedical prevention strategies such as preexposure prophylaxis and postexposure prophylaxis, this intervention could be enhanced to increase awareness of biomedical strategies and how to access them," Dr Rhodes said.
"Information could also be incorporated about local sources of HIV prevention and care services, thereby facilitating contacts with providers. These enhancements would support efforts by Hispanic/Latino MSM to harness prevention strategies on the basis of their individual needs and priorities."
References