February 24, 2015
History of Mental Health Treatment Focus of New Museum
the Psychiatry Advisor take:
A museum covering the history of the treatment of mental illness might not be everyone's cup of tea, but that didn't stop the Bethlem Royal Hospital, located just south of London and the world's oldest psychiatric institution, from doing just that.
The Bethlem Museum of the Mind "records the lives and experience and celebrates the achievements of people with mental health problems," according to its website. The museum, which recently opened in a new 4 million pound ($6.2 million) space includes interactive exhibits, including one where the visitor is asked to decide whether to commit a woman to a psychiatric hospital, against her will, who is in denial about her anorexia.
Other exhibits includes iron and leather shackles used until the mid-19th century to restrain patients and a deconstructed padded cell with the voice of a patient describing what it's like to live inside it. Even a modern electronic ankle tag is displayed which current patients at the hospital are required to wear in order to walk the grounds.
"The museum has to do with challenging the stigma around mental health and one of the main ways you can do that is actually get people to walk onto the site and realize that this is not a frightening, threatening and dark place," Victoria Northwood, the museums curator, told Agence France-Presse.
Art also figures prominently in the collection. This includes two large 17th century statues, "Raving Madness" and "Melancholy Madness," which used to be at the entrance of the hospital when it was located in central London. Paintings by patients are also displayed.
Bethlem Royal Hospital was founded in 1247 and the institution is also responsible for giving us the word bedlam.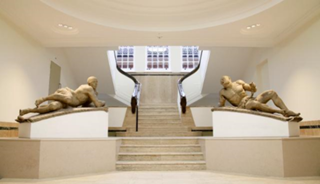 History of Mental Health Treatment Focus of New Museum
The world's oldest psychiatric institution, the Bethlem Royal Hospital outside London, recently opened a new museum and art gallery charting the evolution in the treatment of mental disorders.
The original hospital was founded in 1247 in what is now central London and the name spawned the English word "bedlam" meaning chaos and madness.
In the 18th century visitors could pay to gawk at the hospital's patients and, three centuries later, stereotypes about mental illness still abound. The bleak period in the history of mental treatment is addressed but not dwelled upon in the museum.
Sign Up for Free e-newsletters
Check out what's trending