August 20, 2014
Few Young People Seek Mental Health Treatment
the Psychiatry Advisor take:
There has been a modest increase in the number of young people with possible mental illness seeking mental health care since the Patient Protection and Affordable Care Act (ACA) went into effect in 2010, though less than one-third of them are getting the help they need.
One of the provisions of the ACA allowed young people to remain on their parents' insurance plan until they turned 26. In addition, mental health care is one of the many essential services that must be covered by all plans, according to the law.
Brendan Saloner, PhD, an assistant professor in the Department of Health Policy and Management, Johns Hopkins Bloomberg School of Public Health, in Baltimore, Maryland, and a colleague examined data from the National Survey on Drug Use and Health to determination whether utilization of mental health services changed post-ACA.
After implementation of the parents' plan provision, young people between 18 and 25 with possible mental health disorders, mental health treatment increased by 5.3% percentage points relative relative to a comparison group of similar people between the ages of 26 and 35, they reported in Health Affairs.
However, only about 32% of young people said they were getting help for mental treatment. Before 2010, that figure was 30%. And the number of young people getting treatment for substance abuse was unchanged after the implementation.
"It's important that young adults were able to maintain some modest improvement while treatment for older adults was going down," Saloner told NPR. "The policy can be successful even if it only has a modest effect in improving access."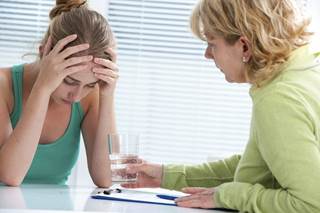 Despite Reform Law, Few Young People Seeking Mental Health Treatment
Mental health issues like
depression
,
anxiety
, and
substance abuse
often start in adolescence, then peak in young adulthood. But for young people who don't have steady jobs or stable paychecks, getting help can be tough.