August 08, 2014
EHR Adoption Grows But Health Information Exchange Does Not
the Psychiatry Advisor take:
Although the use of electronic health records has continued to grow in physician offices across the country, there is still a lag in adoption among certain types of physicians as well as limited sharing of health information between providers.
Michael F. Furakawa, a senior staff fellow at the Agency for Healthcare Research and Quality in Rockville, Maryland, and colleagues found that compared to larger practices and primary care physicians, solo practitioners and other specialty physicians lagged behind in EHR adoption. However, little difference was found by physician age, region, or rural status.
In 2013, 78% of office-based physicians had adopted some type of EHR. Last year, about four in ten physicians had any electronic exchange with other providers, and one in seven exchanged clinical data with providers outside their organization. The researchers attributed these relatively low figures to privacy concerns and incompatible systems.
Several things need to happen to boost widespread adoption of EHRs, according to the researchers. First, physicians need to be incentivized to adopt and use EHRs. Second, it is necessary to track what physicians are being left behind in order to avoid a "digital divide."
Finally, better understanding of how EHRs are being used for advanced activities, such as health information exchange and patient engagement, is critical to improve the efficiency of the health care delivery system.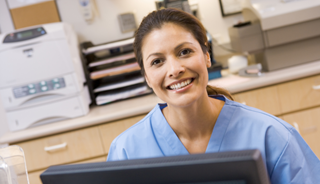 EHR Adoption Grows But Health Information Exchange Does Not
The United States is making substantial investments to accelerate the adoption and use of interoperable electronic health record (EHR) systems. However, we also found persistent gaps in EHR adoption, with physicians in solo
practices
and non–primary care specialties lagging behind others. Physicians' electronic health information exchange with other providers was limited, with only 14% sharing data with providers outside their organization.
Sign Up for Free e-newsletters