March 10, 2016
Clauses in Physicians' Contracts Can Affect Patient Care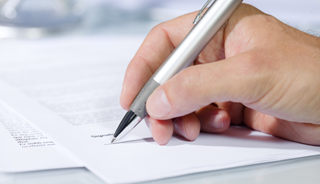 Problematic clauses in contracts include blanket confidentiality clauses, termination without cause.
HealthDay News — Problematic clauses in physicians' contracts can impact patient care and professionalism, according to an Ideas and Opinions piece published online in the Annals of Internal Medicine.
Roy M Poses, MD, from Alpert Medical School and Brown University in Providence, RI, and Wally R Smith, MD, from Virginia Medical Center in Richmond, discuss contractual provisions and their impact on physicians.
The authors note that blanket confidentiality clauses in employed physicians' contracts may represent the most serious threat. These clauses should be distinguished from those that protect patient confidentiality, and may be so broad that they encompass all records, files, reports, and documents provided by the hospital system, thereby burying evidence of poor quality or safety.
Other problematic clauses include leakage control clauses, which encourage employed physicians to refer patients within their system, regardless of patient needs; termination without cause clauses; and noncompete clauses that may reduce patient access to specialties. The example of gag clauses that prevent physicians from discussing problems with electronic health records shows how contracts between employers and third parties can impact physicians.
"We urge medical societies to better inform physicians about the challenges of being employed, including risky contract clauses, and help support physicians who struggle with them," the authors write. "Unfortunately, without broader reforms of the system, physicians may conclude that they must organize to collectively bargain with intransigent employers."