September 29, 2015
Conversation Cards Improve Satisfaction Of Antidepressant Choice
the Psychiatry Advisor take:
Conversation cards to be used by clinicians and patients can help in determining the best antidepressant to choose for a patient.
Annie LeBlanc, PhD, a health science researcher at the Mayo Clinic, and colleagues examined information from 117 physicians and 301 patients. In the study, researchers evaluated evidence-based conversation tools, designed to help patients and their doctors use the best information about depression medicines.
The use of decision cards increased patients' comfort in making decisions by five points (out of 100), their knowledge by 10 points, and the likelihood of being satisfied by 2.4-fold compared to patients who received usual care, the researchers reported in JAMA Internal Medicine.
Physicians also reported an increase in decision-making comfort by 11 out of 100 points and the extent to which they involve patients in the decision-making process during appointments increased by 16 out of 100 points. However, there was no difference in the length of the discussion between doctor and patient in the two cohorts.
"This tool is but one way we can effectively approach the ideal of patient-centered care for patients with depression," LeBlanc said in a statement. "And, with limited cost and burden to the system, this tool and its associated three minutes of training are available free online."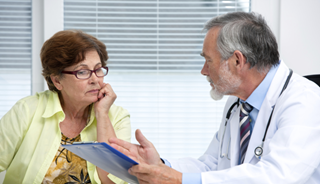 The use of decision cards increased patients' comfort in making decisions and likelihood of being satisfied.
Choosing the antidepressant that works best can be a struggle. A new study from the Mayo Clinic shows that a simple series of conversation cards can dramatically improve patient and physician satisfaction with the discussion on the choice of antidepressant.
Patient decision aids are a means of helping people make informed choices about health care that take into account their personal values and preferences. Decision aids are a part of a shared decision-making process, encouraging active participation by patients in healthcare decisions.
The structured information helps both physician and patient work through a variety of treatment options in a more comprehensive and shared environment than the way medications have been typically selected.
Sign Up for Free e-newsletters