August 22, 2014
Better Guidance Needed to Address 'Disruptive Physicians'
the Psychiatry Advisor take:
The medical profession needs better understanding of the problem of disruptive behavior among physicians that can adversely affect patient treatment, as well as better guidance in dealing with such issues when they arise with a provider.
Luis T. Sanchez, MD, director of Physician Health Services, a subsidiary of the Massachusetts Medical Society, argues in JAMA that there needs to be an "ongoing set of evaluations, institutions are required to establish a code of conduct, develop a reporting system, educate and train staff, and have a mechanism for problem resolution" to deal with the so-called "disruptive physician."
A 2006 report in the Annals of Internal Medicine estimated that between 3% and 5% of physicians had engaged in disruptive behaviors that interfered with patients care. Such behavior is defined as interaction by physicians with others, including hospital personnel, patients, and family members, that interferes with patient care or adversely affects the health care team's ability to work effectively, according to the American Medical Association Council on Ethical and Judicial Affairs.
If they witness such behavior, the physician's colleagues have a responsibility to bring it up with them and find ways to change the physician's actions, Sanchez argues. And non-physician medical staff and other employees need to be made aware of the code of conduct and reporting channels.
Sanchez adds it is important to find out why a physician may be behaving badly, as it could indicated problems within the environment they work in.
"A priority of leadership needs to be preventing and minimizing physician behavior problems by having systems in place that foster collegiality, mentoring, respectful dialogue, and promoting the belief that all physicians within the institution are important," Sanchez writes.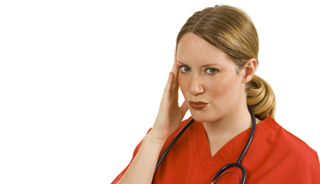 Better Guidance Needed to Address 'Disruptive Physicians'
Concerns regarding the "disruptive physician" have been reported in the medical literature for at least the past 30 years. Recently, there has been the perception that the problem is increasing, although it is unclear if this is because of increased awareness or greater surveillance or because more physicians are acting unprofessionally. A report from 2006 estimated that 3% to 5% of physicians had demonstrated behavior that interferes with patient care or could be expected to interfere with the process of delivering quality care.
Sign Up for Free e-newsletters
Check out what's trending