September 08, 2014
Aesthetics of Psychiatric Facilities Influence Use of Restraints
the Psychiatry Advisor take:
Redecorating the physical environment of a mental health facility or psychiatric hospital can reduce the need for restraints or seclusion of patients.
Alok Madan, PhD, MPH, of the Menninger Clinic in Houston, Texas, and colleagues found that after a facility was made more aesthetically pleasing, the use of restraints and seclusion declined by more than 82% — and the reduction held over a 10-year period.
Madan took part in a 2011 study that found that changes including repainting walls with warm colors, using decorative rugs and restructuring furniture in common areas led to a significant drop in the rates of seclusion and restraint at a psychiatric facility in South Carolina between 2005 and 2008.
The latest study, published in Psychiatric Services in Advance, expanded on that study, and found the declines were sustained over an even longer period.
"While several calls were made to reduce seclusion and restraint within inpatient settings, there was not a lot of research out there about how this [reduction] could be achieved," Madan told Psychiatric News.
However, there are limits to the benefits of environmental improvements, the researchers cautioned. There was no further reduction in seclusion and restraint use was observed between the initial follow-up period (April 2008 to June 2008) and the extended follow-up (July 2008 to December 2012).
They concluded that future research should more closely examine what environmental and design features most profoundly influence seclusion and restraint use.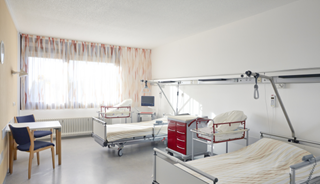 Aesthetics of Psychiatric Facilities Influences Use of Restraints
More than a decade ago, a team of mental health professionals initiated a study that would eventually show that an 82% reduction in a psychiatric hospital's rates for seclusion and restraint use could be achieved within a relatively short time, simply by making the physical environment more aesthetically pleasing.
In a report published in Psychiatric Services in Advance, the researchers updated their data to show whether their intervention method can sustain such a reduction in use of seclusion and restraint over an extended period of time.
Sign Up for Free e-newsletters