January 07, 2015
Selfies Linked to Narcissism, Psychopathy
the Psychiatry Advisor take:
Men who post more photos of themselves (better known as selfies) on social media score higher on personality measures for narcissism and psychopathy compared with men who post fewer selfies, according to a study published in Personality and Individual Differences.
The researchers stressed that these results do not indicate that the men are all narcissists or psychopaths. Rather, they just exhibited higher than average levels of the traits but still remained within the normal range.
The study included 800 men aged 18 to 40. Each participant completed an online survey about their photo posting on social media. The survey asked about their photo-posting frequency and also asked whether they edited their photos, including cropping, adding filters, and using picture-editing software.
The results showed that men who posted more photos scored higher on narcissism and psychopathy scales, but psychopathy was not related to editing photos. Self-objectification, in addition to narcissism, was higher in those who edited their photos more frequently.
While this particular study only included men, the researchers are currently analyzing results from a similar study with only women. The results are not yet complete, but they say that what they have seen so far has been similar. Women who post more photos of themselves tended to be more narcissistic and psychopathic.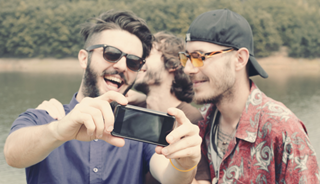 Selfies Linked to Narcissism, Psychopathy
A new study does not paint a pretty picture for guys who post a lot of selfies on social media sites like Facebook and Instagram.
Ohio State University researchers found that men who posted more online photos of themselves than others scored higher on measures of narcissism and psychopathy.
In addition, men who were more likely to edit their selfies before posting scored higher in narcissism and self-objectification, which measures how much they prioritize their appearance.
"It's not surprising that men who post a lot of selfies and spend more time editing them are more narcissistic, but this is the first time it has actually been confirmed in a study," said Jesse Fox, PhD, lead author of the study and assistant professor of communication at The Ohio State University.
Sign Up for Free e-newsletters