January 05, 2015
'Seinfeld' Teaches Medical Students About Psychiatric Disorders
the Psychiatry Advisor take:
Jerry, George, Kramer and Elaine, the main characters of the hit 1990s sitcom "Seinfeld," are helping students at one New Jersey medical school learn about mental illness by examining the characters own psychiatric disorders or peculiarities.
Anthony Tobia, MD, an associate professor of psychiatry at Robert Wood Johnson Medical School, created "Psy-feld," a teaching tool, not a course in and of itself, to help students identify and discuss psychiatric disorders.
Tobia's students — about 150 per year — watch reruns of "Seinfeld" on Mondays and Thursdays. The following morning, prior to beginning their psychiatric rotation, they discuss the psychopathology involved in the previous evening's episode.
Tobia tells NJ.com that all four characters have personality traits that are maladaptive to some extent on a psychiatric level. For example, Jerry has obsessive-compulsive features, Kramer has schizoid traits, George is egocentric and Elaine has an inability to form meaningful relationships.
Tobia says that all 180 episodes of the show and almost every character in the series can included as part of "Psy-feld." The professor also takes his work incorporating "Seinfeld" into teaching psychiatry very seriously. He has written a paper that was published in the November 2014 issue of the journal Academic Psychiatry on how "Seinfeld" can be used to teach delusional disorder subtypes.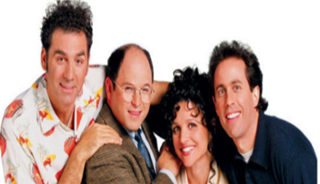 'Seinfeld' Teaches Medical Students About Psychiatric Disorders
It's 9 a.m. on a Tuesday morning at Robert Wood Johnson University Hospital in New Jersey and 10 medical students sit around a conference table covered by coffee cups and clipboards.
Preparing to start their morning rounds, the students chat about what they watched on television the night before.
This isn't a discussion about nothing. More than 15 years after the final episode, "Seinfeld" is the basis for "Psy-feld," a teaching tool designed to help medical students identify and discuss psychiatric disorders.
Sign Up for Free e-newsletters
Check out what's trending