July 11, 2014
Preschool Depression Strongly Predicts MDD Later
the Psychiatry Advisor take:
Depressive disorder in preschool is a better predictor for major depressive disorder later in childhood than other established risk factors, according to researchers.
Joan L. Luby, MD, of the Department of Psychiatry at the Washington University School of Medicine in St. Louis, and colleagues examined the utility and public health significance of preschool onset depression in predicting major depressive disorder in a recent study published in the American Journal of Psychiatry.
The longitudinal prospective study involved 246 children who met the Preschool Feelings Checklist criteria for depression who were followed for six years. Mean patient age was 4.47 years at baseline and 10.91 years at follow-up.
Those diagnosed with preschool-onset depression were more than 2.5 times more likely to be diagnosed with school-age depression than the control population -- 51.4% developed school-age depression compared with 23.8% of the control population, the researchers found.
Other predictors of school-age depression identified in the study included lower income-to-needs ratio, maternal history of depression, caregivers who used nonsupportive parenting strategies, and preschool-age conduct disorders.
"The results suggest that attention to preschool depression and conduct disorder in addition to maternal history of depression and exposure to trauma may be important in identifying young children at highest risk for later major depression and applying early interventions," the researchers wrote.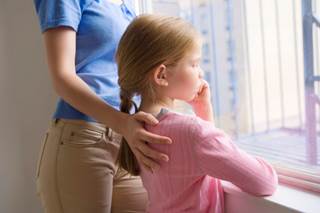 Preschool Depression Strongly Predicts MDD Later
Preschool-onset depression, a form of depression that arises between ages 3 and 6 years, has demonstrated numerous validated features, including characteristic alterations in stress reactivity and brain function. The syndrome is characterized by subthreshold DSM criteria for major depressive disorder, raising questions about its clinical significance.
Sign Up for Free e-newsletters