August 11, 2015
Major Depression, Bipolar Disorder Increase CVD Risk in Teens
the Psychiatry Advisor take:
Teens with major depression or bipolar disorder are more significantly more likely to have risk factors for heart disease independent of psychotropic medication use, according to the American Heart Association.
Major depressive disorder (MDD) and bipolar disorder (BD) meet criteria to be considered tier II moderate-risk conditions for accelerated atherosclerosis and early cardiovascular disease (CVD) as defined by the "Expert Panel on Integrated Guidelines for Cardiovascular Health and Risk Reduction in Children and Adolescents," Benjamin I. Goldstein, MD, PhD, FRCPC, a child-adolescent psychiatrist at Sunnybrook Health Sciences Centre and the University of Toronto in Canada, and colleagues concluded in a recent scientific statement published in Circulation.
The recommendation is based on a comprehensive and systematic review of published literature that investigated the risk of heart disease among adolescents with mood disorders. Findings indicated teens with MDD and BD were more likely to have hypertension, high cholesterol, obesity, type 2 diabetes and atherosclerosis compared with teens without these disorders.
Increased CVD risk factors in these populations were not fully explained by other lifestyle risk factors such as lack of exercise, smoking or drug abuse, according to the Goldstein and colleagues.
Although medications for mood disorders are associated with weight gain, hypertension, high cholesterol and increased blood sugar levels, the researchers argued that MD and BP should be considered independent risk factors for CVD for three reasons:
The strongest evidence linking mood disorder medications to CVD involved populations with increased CVD risk factors, independent of medication use
The assocation between mood disorders and CVD was described decades before mood disorder medications existed
Many of the people included in population-based studies examining the link between mood disorders and CVD were not receiving pharmacological treatment for their mood disorders -- particularly the adolescent population in whom MDD and BD is historically undertreated (at least 60% do not receive treatment)
Although current research is insufficient to fully explain the biological causes behind the increased risk for CVD in teens with MDD and BD, findings from previous studies have shown an association between increased inflammation and other cell damage and mood disorders.
"Cardiovascular risk among youth with MDD and BD should therefore be managed in accordance with recent Expert Panel integrated guidelines, applying the same recommendations made for other moderate-risk conditions [...]," Goldstein and colleagues wrote in the statement.
In youth with MDD and BD who display clusters of more than two CVD risk factors (eg, smoking, hypertension, and obesity), the researchers recommended careful assessment to determine if a tier I high-risk designation applies.
Until better evidence-based guidelines specific to youth with MDD and BD are developed, it is important that stakeholders such as primary care providers, psychiatrists, and policy makers "collaboratively endeavor" to apply the Expert Panel tier II moderate-risk guidelines to youth with MDD and BD, they concluded.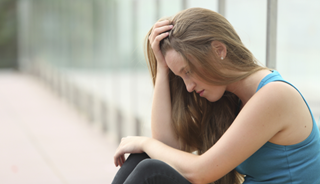 In 2012, around 2.2 million American teenagers aged 12-17 years had a major depressive episode, according to the National Institute of Mental Health.
Major depression and bipolar disorder put teenagers at greater risk for heart disease and should be considered as independent risk factors for the condition. This is according to a scientific statement from the American Heart Association, published in the journal
Circulation
.
Sign Up for Free e-newsletters