July 30, 2014
Does Brief Cognitive Behavioral Therapy Work for Psychosis?
the Psychiatry Advisor take:
Cognitive behavioral therapy (CBT) is known as a valuable tool for treating various mental illnesses. However, in some areas, limited resources and training prevents wider use of it. Researchers sought to find out if using CBT for psychosis (CBTp), even for a brief duration, would benefit patients with psychosis.
Farook Naeem, PhD, an associate professor in the Department of Psychiatry, Queen's University, Kingston, Canada, and colleagues looked at the Cochrane Schizophrenia Group's Trials Register for randomized controlled trials involving patients with schizophrenia or other psychoses to compare brief cognitive behavioral therapy for people with psychosis vs. standard CBTp.
Standard CBTp tends to involve around 16 sessions (12 to 20 sessions) over four to six months, while brief CBTp involves around six to 10 sessions, in less than four months. Under CBTp, people establish links between their thoughts, feelings or actions while working with a therapist. They are encouraged to re-evaluate their beliefs, perceptions and reasoning as well as to monitor their own thoughts, feelings, behaviors and symptoms.
CBTp is suggested to provide alternative ways of coping with strange thoughts and the symptoms of schizophrenia, which should reduce distress and improve people's functioning.
There is debate over whether CBT for psychosis is even beneficial for psychosis. A meta analysis published in the British Journal of Psychiatry earlier this year found little benefit of the treatment in schizophrenia. However, in 2001, University of Pennsylvania School of Medicine researchers found CBT beneficial for patients with schizophrenia, even in the most severe form.
Researchers found seven studies examining brief CBTp, but none that compared brief CBTp to standard CBTp.
"There is a need for RCTs which compare brief with standard CBTp," the researchers said in an article in Schizophrenia Bulletin. "This review also highlighted the need for setting standard criteria for CBTp dose."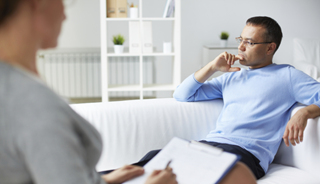 Does Brief Cognitive Behavioral Therapy Work for Psychosis?
There is some evidence from research that suggests that cognitive behavioral therapy for
psychosis
(CBTp) might offer some advantage if offered in combination with pharmacological treatments for people with schizophrenia. There are, however, limitations in its provision due to available resource and training issues
Sign Up for Free e-newsletters
Check out what's trending