July 12, 2014
5-Item Violence Screen IDs At-Risk Veterans
the Psychiatry Advisor take:
A brief screening tool can help clinicians identify military veterans at risk for violent behavior, according to researchers.
Eric B. Elbogen, PhD, of the Department of Psychiatry at the University of North Carolina School of Medicine at Chapel Hill, and colleagues evaluated the predictive validity of the five-item Violence Screening and Assessment of Needs (VIO-SCAN) questionnaire in more than 1,000 Iraq and Afghanistan veterans.
The national random sample survey was conducted from July 2009 through April 2010 and included veterans who served after September 2001. A total of 1090 (84.5% men; 72.8% white; mean age, 37 years) completed a follow-up survey one year later.
VIO-SCAN included questions about combat experience, alcohol misuse, financial stability, history of violence, and probable posttraumatic stress order (PTSD) plus anger.
The researchers found significant Spearman correlations between VIO-SCAN total scores and violence (P<0.05). Area-under-the-curve statistics ranged from 0.74 to 0.78 for the national survey, depending on level of violence analyzed.
"Although the VIO-SCAN does not constitute a comprehensive violence risk assessment and cannot replace fully informed clinical decision making, it is hoped that the screen will provide clinicians with a rapid, systematic method for identifying veterans at higher risk of violence, prioritizing those in need a full clinical workup, structuring review of empirically supported risk factors, and developing plans collaboratively with veterans to reduce risk and increase successful reintegration in the community," the researchers wrote.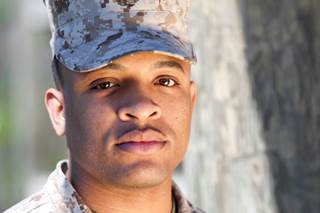 5-Item Violence Screen Helps Determine Risk in Military Vets
Violence toward others among military veterans is an issue of increasing concern. Research has examined violent behavior among veterans of the wars in Iraq and Afghanistan and previous eras of service.
Sign Up for Free e-newsletters
Check out what's trending