July 24, 2014
Immune Response Plays Role in Psychiatric Disorders
the Psychiatry Advisor take:
The human's body immune system is responsible for fighting off infection, but in some people, the response goes on for too long. And that can lead to medical problems, including psychiatric ones.
Eric Hollander, MD, Director of the Compulsive, Impulsive and Autism Spectrum Disorder Program at Albert Einstein College of Medicine at Yeshiva University in New York, believes that inflammation plays a part in psychiatric illnesses.
"Psychiatric and neurodevelopmental disorders are being thought of more and more as systemic illnesses in which inflammation is involved," Hollander recently reported in the Journal of the American Medical Association.
At the American Psychiatric Association Meeting in May, Hollander and other investigators discussed how sometimes, immune responses can malfunction, leading to the development of depression, schizophrenia and autism.
The good news is that this realization is leading to new approaches to deal with these psychiatric conditions. For example, there appears to be a relationship between inflammation and treatment-resistant depression, according to Andrew Miller, MD, of Emory University School of Medicine in Atlanta, Georgia.
Patients who don't respond to antidepressant therapy tend to show an increase in inflammatory markers, which ends up blocking the action of antidepressants. Miller and his colleagues recently tested the therapeutic potential of inhibiting inflammatory cytokines in these patients.
Patients were given infusions of monoclonal antibody infliximab, a TNF antagonist. Overall, those who received the biologic fared no better than those on placebo. However, patients with higher levels of inflammation at baseline did do better, indicating a blood test might be able to determine whether a patient would fare well on immune-targeted therapy for depression.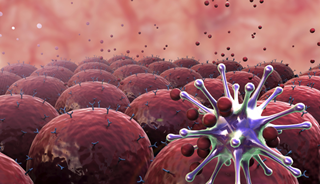 Immune Response Plays Role in Psychiatric Disorders
Activation of the immune system is the body's natural reaction to infection or tissue damage, but when this protective response is prolonged or excessive, it can play a role in many chronic illnesses, not only of the body, but also of the brain.
Some investigators say immune-inflammatory mechanisms can go awry and contribute to the development of depression, schizophrenia, and autism, insights that are leading to novel experimental approaches for these and other disorders.
Sign Up for Free e-newsletters
Check out what's trending