November 24, 2014
Weight Fluctuations Normal in Patients With Parkinson's Disease
the Psychiatry Advisor take:
Fluctuations in weight — either up or down — are common in those suffering from Parkinson's disease and can have a significant impact on quality of life.
Marilena Aiello, PhD, of the International School for Advanced Studies, in Trieste, Italy, and colleagues found that the changes happen depending on what stage of the disease they are in. Deep brain stimulation, a treatment for Parkinson's, can also lead to weight gain of up to 25 pounds, they reported in the journal Appetite.
The research was based on existing Parkinson's studies. They looked at data about the connection between non-motor symptoms, dietary habits, and body weight.
Aiello believes the reason why deep brain stimulation can lead to weight gain is that it may trigger a part of the brain involved in pleasure associated with food. On the other hand, weight loss may be precipitated by depression, cognitive impairment and disturbances to the senses that can impact taste and smell.
"This knowledge is in fact crucial for devising interventions to minimize the effect of the deficits and restore normal weight levels in individuals who are already suffering because of the disease," Aiello said in a statement.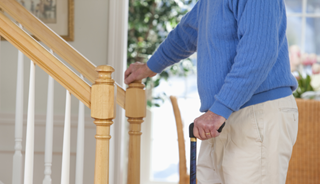 Weight Fluctuations Normal in Patients With Parkinson's Disease
New research discovers that it is normal for patients with Parkinson's disease to have significant weight fluctuations. People may gain or lose weight depending on the stage of the disease. They may also gain up to 25 pounds after a course of deep brain stimulation.
A variety of factors can influence poor dietary habits among individuals with Parkinson's disease. Common issues include depression, cognitive impairment, and sensory disturbances that alter smell and taste. Additionally, an impaired ability to feel pleasure may trigger incorrect eating habits.
Sign Up for Free e-newsletters
Check out what's trending