April 16, 2015
Sleep Apnea May Lead to Cognitive Impairment, Alzheimer's
the Psychiatry Advisor take:
Obstructive sleep apnea may speed up the onset of cognitive impairment, memory loss, and even Alzheimer's disease, according to a new study. However, researchers also found that using a continuous positive airway pressure (CPAP) machine, the most popular treatment for the sleep condition, can alleviate cognitive issues.
Ricardo Osorio, MD, of NYU Langone Medical Center, New York, and colleagues conducted research on a group of 2,470 seniors with an average age of 73 to measure the incidence of sleep apnea, cognitive impairment and Alzheimer's. The participants were part of the Alzheimer's Disease Neuroimaging Initiative.
Participants that had sleep apnea became cognitively impaired at least 11 years earlier than in people who had no sleep disturbances, the researchers reported in the journal Neurology. In the largest cohort examined, that translated into reporting of cognitive problems at age 72 rather than age 83.
However, participants with sleep apnea that used a CPAP machine delayed onset of cognitive impairment by 10 years compared with those who didn't use the machine.
Although the study was observational in nature, Osorio believes that the occasional oxygen cutoff characteristic of sleep apnea or the sleep disruption itself may impact cognition, according to The Washington Post. The study also found that 52.6% of senior men and 26.3% of older woman have sleep apnea.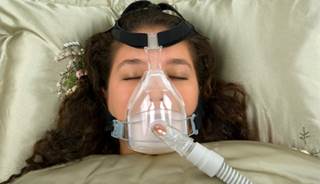 Sleep Apnea May Lead to Cognitive Impairment, Alzheimer's
The dangers associated with night-time breathing disturbances, such as obstructive sleep apnea, are well known: increased risk of high blood pressure, heart attack, stroke and diabetes, not to mention sometimes dangerous daytime drowsiness, according to the National Heart, Lung and Blood Institute.
Now a study suggests that such sleep conditions can hasten the onset of both Alzheimer's disease and "moderate cognitive impairment," such as memory loss, by quite a few years. But in a bit of good news, it concludes that using a continuous positive airway pressure (CPAP) machine, the treatment of choice for sleep apnea, can prevent or delay cognitive problems.
Sign Up for Free e-newsletters