August 18, 2014
Scientists Develop Drug to Target Gene Responsible for Dementia, ALS
the Psychiatry Advisor take:
Researchers at the Mayo Clinic and the Scripps Research Institute have developed a small-molecule drug designed to thwart abnormal cellar processes caused by a mutation in a certain gene — the C9ORF72 gene — that can lead to neurodegenerative diseases, including dementia.
People with the gene mutation produce toxic RNA thought to be responsible for the neurodegeneration that occurs in C9ORF72-related disorders (c9FTD/ALS), such as amyotrophic lateral sclerosis (ALS; Lou Gehrig's disease) and frontotemporal dementia (FTD).
"Our study shows that toxic RNA produced in people with the c9FTD/ALS mutation is indeed a viable drug target," Leonard Petrucelli, PhD, a molecular neurocscientist at the Mayo Clinic and the study's lead author said.
The compound bound to and blocked RNA's ability to interact with other key proteins, thereby preventing the formation of toxic RNA clumps and "c9RAN protein," which is produced by the harmful RNA, the researchers reported in Neuron.
"Development of a readily accessible biomarker for the c9FTD/ALS mutation may aid not only diagnosis of these disorders and allow for tracking disease course in patients, but it could provide a more direct way to evaluate the response to experimental treatments," Kevin Boylan, MD, medical director of the Mayo Jacksonville ALS Center in Florida and a study co-author.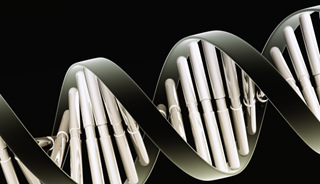 Scientists Develop Drug to Target Gene Responsible for Dementia, ALS
Researchers have developed a new medical intervention that can stop genetic elements from turning into potential risk factors for development of neurodegenerative disorders, amyotrophic lateral sclerosis (ALS or Lou Gehrig's disease) and frontotemporal
dementia
(FTD). The research from Mayo Clinic and The Scripps Research Institute in Florida was published in the journal
Neuron
.
Sign Up for Free e-newsletters
Check out what's trending