October 21, 2015
Mechanism to Stop Lewy Body Formation Has Parkinson's Treatment Promise
the Psychiatry Advisor take:
Researchers have discovered a new way that can potentially reduce the accumulation and spread of protein clumps known as Lewy bodies in a region of brain associated with Parkinson's disease.
Parkinson's is characterized by the loss of dopamine cells in the brain, primarily in a region called the substantia nigra pars compacta. It is in this area that Lewy bodies are found. Because the presence of Lewy body is associated with Parkinson's symptoms, researchers are trying to figure out ways to eliminate the clumps.
Assia Shisheva, PhD, of Wayne State University School of Medicine in Detroit, and colleagues has been investigating the behavior of three proteins inside cells are involved with Parkinson's. They are two enzymes, PIKfyve and Sac3, and a protein called ArPIKfyve.
The researchers discovered the proteins are involved in regulating material into the cells' digestive system. In addition, the found out that if Sac3 is not bound to ArPIKfyve, it results in the death of the cell.
Also, mutations in Sac3 are linked to neurodegenerative disease, while mutations in PIKfyve are associated with a mild disease in the cornea of the eye.
The researchers conclude that the ArPIKfyve-Sac3 complex has separate functions in the brain, and the next step is to look for proteins that interact with it.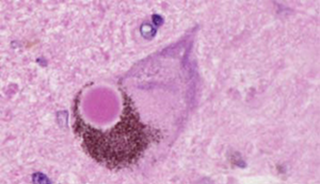 Scientists may have discovered a way to stop the formation of Lewy bodies, protein clumps found in the brains of those with Parkinson's. Image courtesy Mayo Clinic.
A new study provides fresh insights into a possible molecular method for reducing Lewy bodies — protein clumps found in the region of the brain that loses dopamine cells in people with Parkinson's disease.
The research, from Wayne State University School of Medicine in Detroit, Mich., is published in The Journal of Biological Chemistry.
The dopamine-releasing cells most affected by
Parkinson's disease
are located in a midbrain region known as the substantia nigra pars compacta. A hallmark of Parkinson's disease is the accumulation and progressive spread of protein clumps called Lewy bodies in this region. Lewy bodies contain several proteins, the most common one is called alpha-synuclein.
Sign Up for Free e-newsletters
Check out what's trending