May 27, 2015
New Parkinson's Biomarker Identified Through Changes in Brain Area
the Psychiatry Advisor take:
Researchers have found an area of the brain that changes as Parkinson's disease progresses, identifying a new biomarker that could potentially improve diagnosis and treatment of the disorder.
David Vaillancourt, PhD, a professor of applied physiology and kinesiology at the University of Florida in Gainesville, and colleagues discovered that by comparing brain images of Parkinson's patients to a control group of healthy patients, there were changes in a part of the brain called the substania nigra as the disease progressed in those with Parkinson's. Results were published in the journal Brain.
In a Parkinson's patient, the substania nigra has more "free water," which is defined as fluid unconstrained by brain tissue, a result of cognitive degeneration. The study, which used diffusion imaging, a kind of magnetic resonance imaging (MRI), demonstrated that free-water levels go up as the disease progresses. Those levels are also a good predictor of bradykinesia, the slow movement frequently seen in Parkinson's.
The researchers added that the findings mark the first time an MRI-used method has to be to gauge the progression of Parkinson's.
In a statement, Vaillancourt noted that Parkinson's drugs today only help to reduce symptoms, but do little to stop progression of the illness. "We've provided a tool to test promising new therapies that could address progression."
He added that clinicians currently diagnosis Parkinson's by symptoms and how patients respond to medication treatment. But the new biomarker could be used to differentiate Parkinson's with similar diseases and set the stage for better clinical trials of Parkinson's drugs.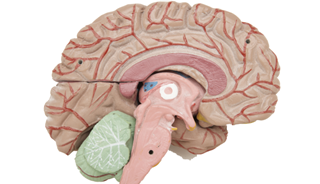 New Parkinson's Biomarker Identified Through Changes in Brain Area
University of Florida researchers have identified a biomarker that shows the progression of Parkinson's disease in the brain, opening the door to better diagnosis and treatment of the degenerative disease.
By comparing brain images of Parkinson's patients to those of a control group over a year, an interdisciplinary team found that an area of the brain called the substania nigra changes as the disease advances. The findings provide the first MRI-based method to measure the disease's progression, which can inform treatment decisions and aid in identifying new therapies, said UF applied physiology and kinesiology professor David Vaillancourt, Ph., one of the study's authors.
Sign Up for Free e-newsletters
Check out what's trending