July 17, 2015
Malaria Drugs Examined As Potential Parkinson's Treatment
the Psychiatry Advisor take:
Two drugs already approved for the treatment of malaria may also be effective in treating Parkinson's disease.
Chloroquine and amodiaquine, two popular antimalaria therapies, target a receptor known as Nurr1, a brain protein scientists believes protects dopamine cells. In Parkinson's, brain cells involved in the release of the neurotransmitter dopamine are impacted.
Kwang-Soo Kim, PhD, a professor in psychiatry and neuroscience at McLean Hospital in Belmont, Mass., and colleagues examined about 1,000 FDA-approved drugs and found that chloroquine and amodiaquine both work to increase the protective role of Nurr1.
Rats with Parkinson's-like symptoms given the drugs saw improvement in movement and signs of dyskinesia, a side effect seen with many Parkinson's drugs, was absent, the researchers reported in the Proceedings of the National Academy of Sciences.
The researchers are already examining other drugs on the market that may stop Parkinson's, and are planning to conduct clinical trials of chloroquine and amodiaquine as a treatment for the neurocognitive disorder.
"Our research also shows that existing drugs can be repurposed to treat other diseases and once several potential drugs are found, we can redesign them to be more effective in combating their targeted diseases while reducing the side effects," study co-author Ho Sup Yoon, PhD, of Nanyang Technological University in Singapore, said in a statement.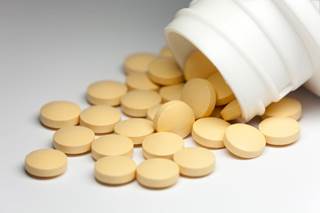 Rats with Parkinson's symptoms given chloroquine and amodiaquine, two popular antimalaria drugs, showed improvements in movement.
There are currently no standard treatments that slow or stop Parkinson's disease — available therapies address each patient's individual symptoms. Now, a breakthrough study successfully identifies two existing antimalaria drugs that show promise in targeting disease progress.
The international team behind the study — including members from Nanyang Technological University (NTU) in Singapore and McLean Hospital and Harvard Medical School in Belmont, MA — reports the findings in the Proceedings of the National Academy of Sciences.
An estimated 10 million people worldwide are living with Parkinson's disease — a progressive, neurological disorder that mostly strikes after middle age. As the disease unfolds, people gradually lose their ability to control their movements and find it increasingly difficult to walk, talk and look after themselves.
Sign Up for Free e-newsletters
Check out what's trending