December 08, 2014
Low-Carb Diet May Improve Memory in Mild Cognitive Impairment
the Psychiatry Advisor take:
Nutrition has been shown to play a role in the treatment of many psychiatric disorders, and recent findings indicate that eating a diet very low in carbohydrates may improve memory in seniors with mild cognitive impairment.
Robert Krikorian, PhD, of the University of Cincinnati in Ohio, and colleagues believe the reason why has to do with ketones, which are compounds made during the metabolism of fat or protein. When the body is extremely low on carbohydrates, it starts to use ketones as a fuel source.
The team enrolled 23 people with mild cognitive impairment in their study. About half of the participaants had a ketonic diet (between 5 and 10% of calories coming from carbs), while the others ate a high-carb diet (50% of calories from carbs). The groups stayed on their respective diets for six weeks.
Patients on the ketonic diet had greater improvement in verbal memory compared to those on the high-carb diet, the researchers reported in the journal Neurobiology of Aging, and also benefited from weight loss, as well as declines in fasting blood glucose and insulin levels.
In Alzheimer's disease, brain cells have trouble metabolizing glucose, which is the major fuel source for cells throughout the body, and is derived from carbs. Only when carbs are low does the body then produce ketones as an alternative fuel source. It is though that ketones are able to provide enough energy to the brain, independent of the impaired glucose metabolizing process, potentially staving off memory loss.
"To our knowledge, these data demonstrate for the first time that carbohydrate restriction can produce memory enhancement in this at-risk population," the researchers wrote.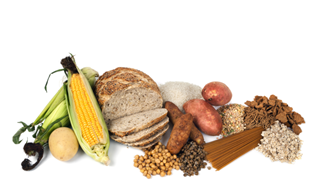 Low Carb Diet May Improve Memory in Mild Cognitive Impairment
Recent findings suggest that a very low-carbohydrate diet may boost memory in older adults with mild cognitive impairment.
Under fairly extreme low-carb conditions, the body starts to use compounds called ketones, made from the metabolism of fat or protein, as a source of fuel. This state, ketosis, occurs naturally and is quite different from ketoacidosis which is a serious problem caused by severe metabolic disturbances.
A new study tested a ketogenic diet in people with mild cognitive impairment, sometimes a precursor to dementia. For six weeks, half of the 23 participants ate a ketogenic diet, with five to 10% of calories coming from carbohydrates, while the others ate a high-carbohydrate diet, 50% of calories from carbohydrates.
Sign Up for Free e-newsletters
Check out what's trending