August 28, 2015
Fat Build-Up in Brain May Accelerate Alzheimer's
the Psychiatry Advisor take:
Abnormal build-up of fat in the brain may accelerate the spread of Alzheimer's disease.
Researchers at the University of Montreal Hospital Research Centre examined the brains of nine people who had died from Alzheimer's. When they compared those to five healthy brains, they found that the Alzheimer's brains had a significantly higher number of fat droplets, which were identified as triglycerides.
The researchers also found that in mice predisposed to the disease, the fatty acids accumulate early on — two months of age — which corresponds to the early twenties in humans.
There are compounds that can inhibit the enzyme that produces the fat deposits — currently under investigation as a treatment for obesity — that may also be effective in treating Alzheimer's, the researchers wrote in the journal Cell Stem Cell.
"We succeeded in preventing these fatty acids from building up in the brains of mice predisposed to the disease," Karl Fernandes, PhD, a co-author of the study, said in a statement. The impact of this treatment on all the aspects of the disease is not yet known, but it significantly increased stem cell activity."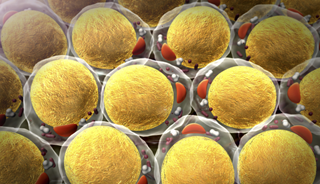 Compounds that inhibit the enzymes that cause the deposits are being tested as obesity treatments, but could have potential for Alzheimer's too.
People with Alzheimer's disease have fat deposits in the brain. For the first time since the disease was described 109 years ago, researchers affiliated with the University of Montreal Hospital Research Centre (CRCHUM) have discovered accumulations of fat droplets in the brain of patients who died from the disease and have identified the nature of the fat.
This breakthrough, published in the journal Cell Stem Cell, opens up a new avenue in the search for a medication to cure or slow the progression of Alzheimer's disease. Over 47.5 million people worldwide have Alzheimer's disease or some other type of dementia, according to the World Health Organization. Despite decades of research, the only medications currently available treat the symptoms alone.
This study highlights what might prove to be a missing link in the field. Researchers initially tried to understand why the brain's stem cells, which normally help repair brain damage, are unresponsive in Alzheimer's disease.
Sign Up for Free e-newsletters