February 20, 2015
Growth Factor May Promote Regeneration in Parkinson's Brains
the Psychiatry Advisor take:
A growth factor compound has been shown to promote regeneration activity in the brain by increasing dopamine signaling, a development that could potentially help people suffering from Parkinson's disease.
Parkinson's itself results from the loss of brain cells that make dopamine, a key neurotransmitter responsible for helping to send signals across nerve cells. The use of a growth factor may help the brain to stop the loss of brain cells and restore dopamine to normal levels.
Researchers at Lund University and the Karolinska Institute in Sweden conducted a double-blind, randomized, placebo-controlled trial examining the safety and tolerability of platelet-derived growth factor (PGDF) in 12 Parkinson's patients.
Either PGDF or a placebo was administered via pump implanted in the abdomen. The patients received treatment for 12 days, after which all participants received an infusion of saline for the next 73 days.
PET scans of patients' brains taken four months after treatment showed that those who received PGDF had their levels of dopamine signaling increased, the researchers reported in the Journal of Clinical Investigation.
"Although we still have a long way to go, our study suggests that it may be possible to stimulate the brain's built-in protective mechanisms in order to slow or halt disease progression," Gesine Paul-Visse, MD, PhD, of Lund University, the study group leader, said in a statement.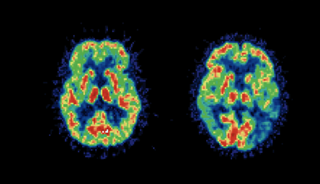 Growth Factor May Promote Regeneration in Parkinson's Brains
The first trial to test the effect of a growth-factor compound in humans with Parkinson's disease has shown promising results. A report in the Journal of Clinical Investigation raises the hope that one day we will see regenerative treatments for Parkinson's disease that use the brain's own protective mechanisms to halt the loss of brain cells and restore dopamine levels.
Research into the effects of platelet-derived growth factor or PDGF started over 10 years ago with studies in animals. These found that the growth factor reduces symptoms of Parkinson's, improves motor skills, and restores levels of dopamine in the brain. They also suggest PDGF repairs neurons and nerve fibers.
Sign Up for Free e-newsletters
Check out what's trending