January 13, 2015
FDA Approves Long-Acting, Infusion Parkinson's Treatment
the Psychiatry Advisor take:
For the second time in a week, the FDA has approved a long-acting medication for Parkinson's disease.
Duopa, a combination of carbidopa and levodopa, two drugs used as the standard of care for the disorder, improves upon oral formulations of the drugs as it is effective for 16 hours compared with just four hours.
Some people who take many oral doses daily can develop involuntary movements, known as dyskinesia.
Administered using a small, portable infusion pump delivering the medication directly into the small intestine via a tube, bypassing the stomach, Duopa, manufactured by AbbVie Inc., was approved as an orphan drug for the treatment of motor fluctuations in people with advanced Parkinson's disease. Such designations are granted for drugs that treat conditions with fewer than 200,000 patients.
An AbbVie spokesperson told Psychiatry Advisor Duopa will be available "in the coming months on a rolling basis at movement disorder centers."
"There is unmet need for treatment options for patients with advanced Parkinson's disease," said C. Warren Olanow, MD, of the Mount Sinai School of Medicine in New York City and the lead investigator of the Duopa pivotal trial. "As the disease advances, it can be difficult to control motor features. In clinical trials, Duopa was shown to significantly reduce the amount of off time advanced Parkinson's disease patients experienced."
Off time are periods when Parkinson's symptoms go uncontrolled.
Last week, the FDA approved Rytary, an extended-release oral formulation of carbidopa and levodopa.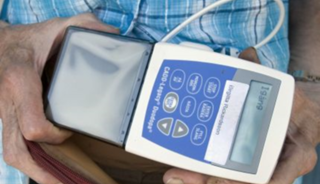 FDA Approves Long-Acting, Infusion Parkinson's Treatment
The U.S. Food and Drug Administration approved AbbVie Inc's treatment for Parkinson's disease.The treatment, Duopa — a combination of carbidopa and levodopa — is the first to be effective for 16 hours, compared with existing oral formulations that last for up to four hours following a single dose.
Duopa, already available in Canada, is administered using a small portable infusion pump that delivers the drug directly to the small intestine.
Parkinson's disease is characterized by reduced levels of the hormone dopamine in the brain, which leads to poor mobility, slowness and stiffness. Nearly all patients diagnosed with the disease are treated with levodopa. The effectiveness of oral levodopa, however, is limited by its short half-life. Excessive oral doses often lead to involuntary movements, or dyskinesia.
Sign Up for Free e-newsletters
Check out what's trending