November 18, 2014
Exercise Reduces Cognitive Decline in Patients With Parkinson's
the Psychiatry Advisor take:
People with Parkinson's disease that exercised regularly had better quality of life, mobility, and less cognitive decline than their peers who did not.
Tanya Simuni, MD, director of Northwestern University Feinberg School of Medicine's Parkinson's Disease Movement Disorders Center, and colleagues analyzed data from more than 4,800 patients in the National Parkinson Foundation Quality Improvement Initiative Registry to determine levels of exercise in subjects with Parkinson's.
Participants were categorized into three groups: non-exercisers (0 min/week), low exercisers (1–150 min/week), and regular exercisers (>150 min/week). Regular exercisers accounted for 44% of the group.
"Regular exercisers at baseline were associated with better metrics of quality of life, mobility and physical function and less progression of disease disability, caregiver burden and cognitive decline one year later — even after taking into account disease duration, age and other demographic factors," Simuni said in a statement. "This shows that people with physical disabilities can effectively exercise."
A study that came out last month found that all types of exercise — including cardio-based , strength training and even motor activities focused on balance and coordination — improve cognitive performance in seniors.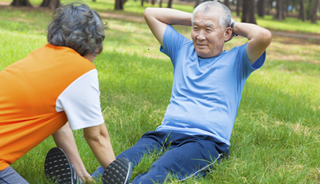 Exercise Reduces Cognitive Decline in Patients With Parkinson's
Regular exercise has been confirmed as an important part of Parkinson's disease therapy, one that can enhance patients' quality of life and slow disease progression, according to a new Northwestern Medicine study.
Despite growing evidence that exercise can reduce the disease's progression, there has been uncertainty about whether Parkinson's patients are capable of exercise given their physical limitations.
The researchers examined data from the large National Parkinson Foundation Quality Improvement Initiative Registry of patients with the disease to investigate whether that notion is true.
Sign Up for Free e-newsletters
Check out what's trending