March 10, 2015
Electric 'Noise' Device Could Improve Balance in Parkinson's Patients
the Psychiatry Advisor take:
A wearable device that sends out an electric "noise" could benefit patients with Parkinson's disease to improve their balance.
Researchers at the Sahlgrenska Academy, part of Sweden's University of Gothenberg, developed a pocket-sized device that works in a way similar to Transcutaneous Electrical Nerve Stimulation (TENS) therapy, which is already used for pain relief.
The device works by providing stimulation through patches attached to the head behind the ears, to better interact with the body's vestibular system, which plays an important role in balance and movement.
Filip Bergquist, MD, PhD, of the University of Gothenberg, and colleagues tested the device on 10 Parkinson's patients, in both medicated and unmedicated states. On days when patients received the noise stimulation, they showed improvement in both balance and a reduction in Parkinson's symptoms.
"What we are hoping for with this device is to find a treatment for movement disorders where levodopa is not enough," Bergquist told Reuters. Parkinson's is characterized by low levels of the neurotransmitter dopamine and levodopa stmulates production of it.
"But this may not be restricted to Parkinson's disease, so there may be other conditions with poor balance where you could use electrical stimulation of the vestibular organs, the balance organs to improve balance and gait," he added.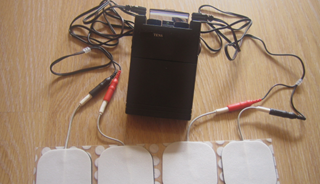 Electric 'Noise' Device Could Improve Balance in Parkinson's
A wearable device that stimulates the sense of balance with electric "noise" could help Parkinson's disease patients, according to Swedish scientists.
Scientists from the University of Gothenburg's Sahlgrenska Academy have developed a portable pocket-sized vestibular, or balance, stimulation device in a bid to improve the lives of Parkinson's sufferers.
The research was led by Associate Professor Filip Bergquist, who said the simple device was similar to the TENS (Transcutaneous Electrical Nerve Stimulation) therapy which is used for pain relief, for example in child birth.
Sign Up for Free e-newsletters
Check out what's trending