January 05, 2015
Drug-Device Combo Could Help Parkinson's Patients
the Psychiatry Advisor take:
Two drug-device combination products designed to deliver subcutaneously a proprietary version of the Parkinson's disease medications levodopa/carbidopa led to "markedly" more consistent levodopa concentrations compared with oral formulations of the medications in a mid-stage trial.
A total of 16 patients with advanced Parkinson's were given one of two of NeuroDerm's candidates, ND0612H or ND0612L. The former is a high-dose version of the two drugs, while the latter is a lower dose. Patients were given one of the two versions for eight hours per day, over three consecutive days, along with adjunct oral entacapone.
Results of the Phase II trial indicated that ND0612H led to levodopa concentrations similar to what is now only available through products that require surgical intervention. In addition, both combo products did not raise any safety or tolerability issues, and no adverse events.
The drug-device products could be a big help to Parkinson's patients as the orally administered version of levodopa has a short half-life, requiring patients to take multiple doses of levodopa and carbidopa throughout the day, resulting in sharp fluctuations in levodopa levels.
"Maintaining consistent levodopa concentrations has been the most significant hurdle in Parkinson's disease therapy," Sheila Oren, MD, NeuroDerm's Vice President of Clinical and Regulatory Affairs, said in a statement. "ND0612H is designed to be delivered continuously, thus we believe it should offer a simple and effective treatment option that will minimize the need for surgical intervention in advanced Parkinson's patients."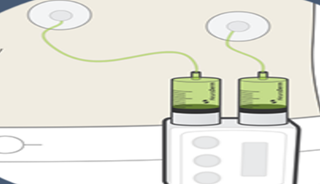 Drug-Device Combo Could Help Parkinson's Patients
NeuroDerm Ltd. has announced that continuous, subcutaneous delivery of the company's proprietary liquid levodopa/carbidopa (LD/CD) product candidates, ND0612H and ND0612L, led to clinically-significant plasma levodopa levels. These results suggest that the high dose version, ND0612H, intended for severe Parkinson's disease patients, may provide an effective therapy alternative to current treatments requiring surgery.
Due to the short half-life of oral levodopa, patients are required to take multiple LD/CD doses daily. This results in sharp fluctuations in levodopa levels which are associated with erratic "off" and "on" periods experienced by many patients. Continuous LD administration can overcome this limitation, but steady LD delivery can currently only be achieved after undergoing an invasive surgical procedure whereby a tube is permanently implanted into the duodenum, the upper part of the small intestine.
Sign Up for Free e-newsletters