September 08, 2014
Diabetes May Boost Cognitive Impairment Risk
the Psychiatry Advisor take:
Having type 2 diabetes may also increase the risk of developing mild cognitive impairment (MCI).
Angela Winkler, MA, of the Department of Neurology, University Hospital of Essen, Germany, and colleagues examined 560 participants with MCI and compared them with 1,376 patients without any cognitive issues.
The patients were first examined between 2000 and 2003, and then again five years later. About 90% of the original participants took part in the second examination.
Type 2 diabetes was strongly associated with MCI, but only in middle-aged participants between the ages of 40 and 65 years old, the researcher reported in the Journal of Alzheimer's Disease.
Further examination revealed a stronger association of diabetes with amnestic MCI in middle-aged women and a stronger association with non-amnestic MCI in middle-aged men. Amnestic MCI refers to impairments in memory cognition, while non-amnestic MCI involves nonmemory domains.
The result suggest that middle-aged individuals type 2 diabetes are particularly vulnerable to MCI, with gender specific effects on subtypes of MCI, the researchers concluded.
"This underlines the importance of high quality treatment of diabetes especially in middle age, not only because of cardiovascular damage, but also because it might help to prevent or delay cognitive decline," they wrote.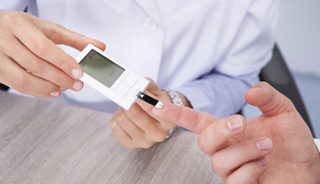 Diabetes May Boost Cognitive Impairment Risk
In a large population-based study of randomly selected participants in Germany, researchers found that mild cognitive impairment (MCI) occurred twice more often in individuals diagnosed with diabetes mellitus type 2. Interestingly, this strong association was only observed in middle-aged participants (50-65 years), whereas in older participants (66-80 years) the association vanished. This study is published in the Journal of Alzheimer's Disease.

The concept of MCI describes an intermediate state between normal cognitive aging and dementia. Although people with MCI have a higher dementia risk, very few actually develop dementia. In fact, many persons with MCI convert back to a cognitively normal state. This transitional — and therefore possibly modifiable — characteristic makes the concept of MCI a promising approach in the development of prevention strategies.