August 19, 2014
Depression, Psychosis Risk Greater in Early Parkinson's Disease
the Psychiatry Advisor take:
Untreated patients in the early stages of Parkinson's disease (PD) are more likely to experience neuropsychiatric symptoms such as depression and psychosis, while impulse control disorders (ICDs) and excessive daytime sleepiness are more common after at least a year of dopamine replacement therapy (DRT).
Research comparing early stage patients with PD (untreated at enrollment) to healthy controls found that patients with PD experienced more depression, fatigue, apathy, and anxiety vs. healthy controls at baseline and after 12 and 24 months. Apathy and psychosis increased over time in PD patients. Results were published in Neurology.
Cognition declined significantly for PD patients over time but was comparable to that in the healthy controls. Forty-four percent of the PD patients were receiving DRT at 24 months, with reports of greater ICDs and excessive daytime sleepiness in this group.
Only one-third of PD patients who screened positive for depression at any time in the study were on antidepressant therapy. Physicians should be aware of the risk of neuropsychiatric symptoms in PD patients and initiate pharmacological treatment if needed.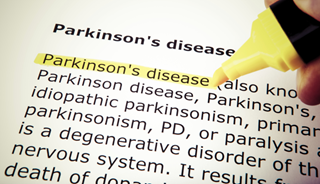 Depression and Psychosis Risk Greater in Early Parkinson's Disease
The objective of the study is to evaluate the course and predictors of neuropsychiatric symptoms (NPS) and cognition in patients with de novo Parkinson disease (PD). Methods used include a cross-sectional study of the cohort of de novo, untreated (at enrollment) patients with PD and healthy controls (HCs) from the Parkinson's Progression Markers Initiative.
Sign Up for Free e-newsletters
Check out what's trending