April 14, 2015
Dancing May Improve Some Parkinson's Symptoms
the Psychiatry Advisor take:
While it is well known that exercise is beneficial for many neurocognitive disorders, researchers in Canada say that dancing — and specifically the tango — improved mobility and balance in a group of patients with Parkinson's disease.
Silvia Rios Romenets, MD, of McGill University Health Centre in Montreal and colleagues recruited 40 men and women with idiopathic Parkinson's disease. They were enrolled in dance studio classes to learn the Argentine tango.
The tango involves steps that involve rhythmically walking forward and backward, and requires multitasking to remember dance elements. In addition, dancers need to stay in rhythm with the music, and learn how to move around others on the dance floor. Researchers think these skills can also help improve balance and mobility.
The dancing was able to significantly improve balance and functional mobility, the researchers reported in the journal Complementary Therapies in Medicine. Modest benefits were observed in terms of improvements in cognitive functions and fatigue. However, no significant changes were seen in overall motor functions.
Researchers also noted that there is a connection between music and the neurotransmitter dopamine, which influences behavior, in the brain. And combining music and dance, they added, boosts patients' motivation, mood and stimulating cognition.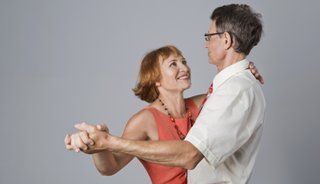 Dancing May Improve Some Parkinson's Symptoms
Canadian researchers believe dancing the Argentine tango can improve motor skills and aid mental prowess among people with Parkinson's disease (PD).
Investigators from the Montreal Neurological Institute and Hospital, McGill University and the Research Institute of the McGill University Health Centre looked at changes in patients' motor abilities and non-motor symptoms following a 12-week tango course.
The study looked at whether a social and physical activity linked to music, such as tango, could have possible therapeutic value for PD patients who characteristically suffer from motor and mental dysfunctions.
Sign Up for Free e-newsletters