February 06, 2015
Compound in Red Wine May Prevent Memory Loss
the Psychiatry Advisor take:
A compound found in red grapes and red wine may aid in the prevention of age-related memory loss, according to a study published in Scientific Reports.
Resveratrol is an antioxidant found in the skin of red grapes, red wine, peanuts, and some berries that has already been shown to help prevent heart disease. Now, a new study has shown that the compound may have positive effects on the hippocampus, a part of the brain involved with long-term memory.
The researchers looked at the effects of resveratrol on the brains of aged rats, focusing on learning, memory, and mood function. The rats treated with the compound showed improvements in spatial learning and memory compared with controls. The control rats retained their spatial learning ability, but their ability to make new spatial memories declined significantly after 22 to 25 months.
Additionally, the resveratrol-treated rats experienced doubled rates of neurogenesis compared to the controls. They also had improved microvasculature and lower levels of chronic inflammation in the hippocampus.
Both animals and humans experience cognitive decline related to aging, so the researchers hope that their results can be duplicated in humans. If resveratrol is effective in humans, it could potentially treat memory loss in elderly people or even help those with more severe neurodegenerative conditions like Alzheimer's disease.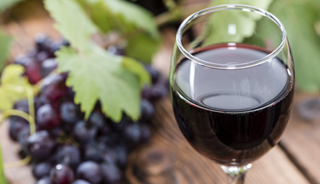 Compound in Red Wine May Prevent Memory Loss
A compound found in common foods such as red grapes and peanuts may help prevent age-related decline in memory, according to new research published by a faculty member in the Texas A&M Health Science Center College of Medicine.
Ashok K. Shetty, Ph.D., a professor in the Department of Molecular and Cellular Medicine and Director of Neurosciences at the Institute for Regenerative Medicine, has been studying the potential benefit of resveratrol, an antioxidant that is found in the skin of red grapes, as well as in red wine, peanuts and some berries.
Sign Up for Free e-newsletters