April 23, 2015
Carbidopa-Levodopa Gel Can Better Manage Parkinson's Symptoms
the Psychiatry Advisor take:
A newly developed gel that delivers carbidopa and levodopa continuously into the small intestine with a portable infusion pump could allow for more consistent levels of the drugs in the blood plasma of Parkinson's disease patients, better improving motor skill impairments.
The gel, part of an infusion system known as CLES (Duopa), overcomes a common problem in Parkinson's patients: The difficulty in absorbing medications because of erratic muscle movements that control digestion, which is caused by the disease. Duopa was approved by the FDA in January.
John Slevin, M.D., professor of neurology and vice chair of research at the Kentucky Neuroscience Institute at University of Kentucky, and colleagues had 66 patients enrolled in a 12-week, double-blind, randomized trial to receive either CLES or immediate release levodopa-carbidopa. After that, 62 participants continued on to one-year of open-label CLES treatment.
Patients who did not receive CLES in the first part of the trial showed a decrease in "off" time — when symptoms are not controlled — and an increase in "on" time — when medication is able to control symptoms — without dyskinesia in the open-label portion, the researchers reported in The Journal of Parkinson's Disease.
Patients who had been receiving the gel throughout the trial showed sustained "off" time duration and continued improvement in "on" time, also without dyskinesia.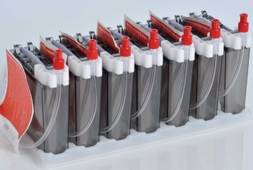 Carbidopa-Levodopa Gel Can Better Manage Parkinson's Symptoms
To date, a cure for Parkinson's disease (PD) remains elusive for the more than 50,000 Americans diagnosed yearly, despite decades of intensive study. But a newly approved treatment that might help ease the symptoms of Parkinson's has shown remarkable promise.
John Slevin, MD, MBA, Professor of Neurology and Vice Chair of Research at UK's Kentucky Neuroscience Institute, worked with a team of international investigators to explore the efficacy of continuous levodopa dosing using a specially developed gel called CLES (Duopa®) that is delivered directly into the small intestine by a portable infusion pump.
According to Dr. Slevin, CLES's effectiveness is due in part to the fact that it results in more stable plasma concentrations of levodopa by delivering it directly to the small intestine, which bypasses issues of erratic gastric emptying and absorption caused by reduced muscular function inherent to PD.
Sign Up for Free e-newsletters
Check out what's trending