February 13, 2015
Breath Test Could Help Diagnose Parkinson's Disease
the Psychiatry Advisor take:
A breath test could one day be used to help physicians detect and diagnose Parkinson's disease by analyzing the chemical signature in an exhaled breath.
Researchers at the University of Cambridge in the United Kingdom, led by Roger Barker, PhD, are looking to conduct a study of 200 people in England to see if the breath test can, in fact, conclusively show that a person has Parkinson's.
The researchers are buoyed by a smaller study of 57 people, some with Parkinson's and some without, conducted in Israel and published late last year in the journal Parkinsonism & Related Disorders, that found that volatile organic compounds emitted in exhaled breath is different in those with Parkinson's.
Currently, Parkinson's is diagnosed based on symptoms and results from brain scans. However, the disease is often diagnosed in advanced stages in this manner. The hope is that identifying Parkinson's earlier would allow treatment to begin sooner.
"We would like to find biomarkers that can identify patients early," Simon Stott, PhD, a member of the Cambridge research team, told BBC News. "A breath test would be really appealing because it's non-invasive, non-painful and can be done in seconds. While it wouldn't replace what doctors already do, it could be a useful diagnostic tool to help them."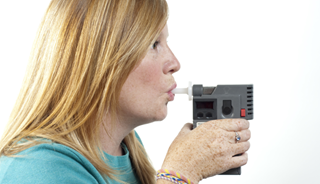 Breath Test Could Help Diagnose Parkinson's Disease
Experts believe that a simple breath test could help doctors detect and diagnose Parkinson's disease. The test looks for a unique signature of chemicals in exhaled breath.
Small studies in volunteers have begun and early findings suggest the test can identify those with the debilitating brain condition. Larger trials are now planned to see if it could truly be a useful test, particularly for picking up Parkinson's in its earliest stages.
Currently, no test can conclusively show that a person has Parkinson's. Instead, doctors reach a diagnosis based on a person's symptoms and test results — such as brain scans to rule out other diseases.
Sign Up for Free e-newsletters