April 09, 2015
Blood Test May Identify New Biomarkers for Parkinson's
the Psychiatry Advisor take:
Researchers at Mount Sinai Medical Center in New York have developed a new blood test that they say can better identify biomarkers for Parkinson's disease, which could lead to earlier detection of the condition.
Stuart Sealfon, MD, chairman of the Department of Neurology at Mount Sinai, and colleagues analyzed blood of four groups of mice with genetic material, such as RNA, that they thought could be Parkinson's biomarkers. Researchers then looked at the blood of a group of Askenazi Jews with Parkinson's, as well as a group of healthy controls.
About half of the subjects in both human groups have a mutation in a gene called LRRK2, which is known to increase the risk of developing Parkinson's. Only 1 to 2% of Parkinson's patients have this mutation, and many are Ashkenazi Jews.
When researchers compared the mouse and human blood samples, they found RNA signatures that correlate with the LRRK2 mutation present in Parkinson's patients, they reported in the journal Movement Disorders.
Although the LRRK2 mutation may only accounts for higher Parkinson's risk in a very small percentage of patients, researchers say that related pathways may play a role in non-inherited instances of Parkinson's, which is much more common.
"If you can improve your ability to diagnose the disease more specifically and identify new subtypes, this can help overcome the hurdle in developing new treatments for Parkinson's and other brain diseases," Sealfon said in a statement.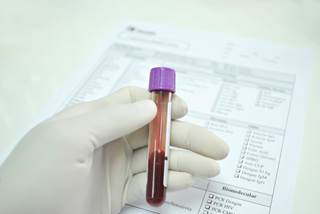 Blood Test May Identify New Biomarkers for Parkinson's
A new blood test may more accurately identify blood signatures, or biomarkers, for Parkinson's disease (PD), according to a new study published in the journal Movement Disorders. The study, conducted by researchers at Mount Sinai and funded by the Michael J. Fox Foundation for Parkinson's Research, applies a new approach to looking for blood biomarkers for both patients with and without a known genetic risk factor for PD.
While biomarkers — such as bad cholesterol level in the case of heart disease — hasten diagnoses by offering accurate measures of disease progression, there are currently no fully validated biomarkers for PD
Sign Up for Free e-newsletters