June 01, 2015
Some Alzheimer's Patients Have Increased Pain Sensitivity
the Psychiatry Advisor take:
People who suffer from cognitive impairment, including Alzheimer's disease and dementia, may have an increased sensitivity to pain.
Ruth Defrin, PhD, of University of Tel Aviv, Israel, and colleagues conducted an analysis of already published studies dealing with how cognitively impaired individuals dealt with pain. Their work was published in the journal PAIN.
"It appears that those with widespread brain atrophy or neural degeneration…all show increased pain responses and/or greater pain sensitivity," Defrin said in a statement.
One issue that the researchers mentioned is that many patients who are cognitively impaired may have difficulty indicating the pain they may be experiencing, posing a challenge for clinicians to diagnose and treat the pain. And because of this, some researchers have mistakenly suggested that people with cognitive impairment may actually have reduced pain sensitivity.
The researchers found that experiencing pain is higher in those with mild-to-moderate Alzheimer's, though pain sensitivity is more unclear in those with more advanced forms of the illness. Because of this, the researchers say using different methods to assess pain should be used in this population.
Interestingly, pain responses appeared to be lower in patients with frontotemporal dementia (Pick's disease) and Huntington's disease, yet were higher in those with Parkinson's disease, according to the study.
They added that pain sensitivity is also impacted in those who have suffered brain damage, such as a traumatic brain injury or stroke.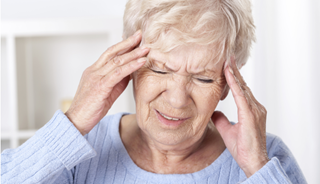 Some Alzheimer's Patients Have Increased Pain Sensitivity
A new research review concludes that people with dementia and other forms of cognitive impairment have altered responses to pain, with many conditions associated with increased pain sensitivity.
The new review is in contrast to the previous belief that people with cognitive impairment (CI) have reduced sensitivity to pain. The research team analyzed previous studies on pain responses in cognitively impaired patients.
The topic is an important one, as many patients with CI — which can result from a wide range of neurological and neurodegenerative diseases, or even normal aging — have "sustained and complex health care needs" involving pain.
Sign Up for Free e-newsletters