August 22, 2014
Age, Antidepressant Use Influence Sleep in Mild Cognitive Impairment
the Psychiatry Advisor take:
A combination of six factors influence sleep quality in patients with mild cognitive impairment (MCI), about two-thirds of whom report poor sleep quality.
Andrew McKinnon of the Healthy Brain Aging Clinic at the University of Sydney, Australia, and colleagues examined reasons why people who suffer from MCI frequently complain of sleep impairment.
Depressive symptoms, cognition, antidepressant use, alcohol consumption, age, and education were predictors of sleep quality among 158 patients with MCI, the researchers reported in the Journal of Geriatric Psychiatry and Neurology.
However, the six factors only accounted for about one-third of the variance in sleep quality scores. The remaining two-thirds were unexplained.
Medical burden, exercise, body mass index, and vascular risk factors were not associated with sleep quality scores. Interestingly, poorer sleep quality was associated with a higher level of cognitive function, the researchers found. There was also a strong relationship between depression and sleep quality.
"Future studies should seek to identify other key predictors of poor sleep quality in MCI, including more detailed measurement of physical activity, obstructive sleep apnea, and dysfunctional beliefs and attitudes about sleep," the researchers concluded.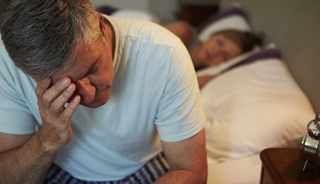 Age, Antidepressant Use Influence Sleep in Cognitive Impairment
The purpose of the study is to investigate the prevalence of and contributors to poor sleep quality in patients with
mild cognitive impairment
(MCI).
Sign Up for Free e-newsletters
Check out what's trending