January 06, 2015
Yoga Helps Those Suffering From Depression, Bipolar Disorder
the Psychiatry Advisor take:
A Canadian woman who runs a yoga studio in Toronto is using the mental and spiritual practice as a way to help those who are suffering from depression or bipolar disorder.
Linda Malone, founder of Iam Yoga, is also the director of the Blue Matter Project, a non-profit that acts as a bridge between yoga studios and those with mental illness. She came with the idea to use yoga as a depression and bipolar treatment after her brother, Michael, committed sucide at the age of 24.
Her passion resulted in being put in in touch with therapists at Toronto's Centre for Addiction and Mental Health — Canada's largest such facility — who let patients know about Blu Matter and even referred some people to yoga studios.
"We sponsor people, so people who otherwise can't afford it who are seeking treatment who are diagnosed with any form of depression — including mood disorders, anxiety or trauma — we connect them to the practice of yoga," Malone told The Canadian Press.
The yoga is centered around the idea of mindfulness, which encourages people to become more conscious and aware of their feeling at the present moment.
"Many of the cognitive behavioral therapies incorporate an element of mindfulness," said Arun Ravindran, PhD, senior scientist in the Campbell Family Mental Health Research Institute at the Centre for Addiction and Mental Health. "It's a kind of acceptance therapy. You're getting people to realize the appropriate nature of the problem and trying to get them to overcome them."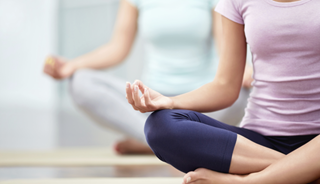 Yoga Helps Those Suffering From Depression, Bipolar Disorder
As a yoga devotee and founder of her own studio, Linda Malone is sharing her passion for the practice through a special program dedicated to helping people living with mental illness.
Malone is the director of the Blu Matter Project, a not-for-profit organization acting as a bridge between its ambassador yoga studios and individuals living with depression and/or bipolar disorder.
She said Blu Matter also uses social media to share research being done around the science and neurobiology of mindfulness, which encourages individuals to become conscious and aware of their thoughts and feelings in the present moment.
Sign Up for Free e-newsletters
Check out what's trending