December 17, 2014
Work Burnout Can Lead to Depression
the Psychiatry Advisor take:
Feeling burned out by work is highly connected to depression.
Irvin Schonfeld, PhD, of the City College of New York, and colleagues examined more than 5,000 teachers to find out the prevalence of depressive disorders in those who said they were burned out by their job.
Ninety percent of teachers who were found to have burnout also met diagnostic criteria for depression, the researchers reported in the International Journal of Stress Management.
"The study suggests that the burnout–depression overlap has been largely underestimated," the researchers wrote. "Atypical depression may account for a substantial part of this overlap. "Overall, our findings point to depressive symptoms and depressive disorders as central concerns in the management of burnout."
Atypical depression differs from standard depression in that in the former, mood can be improved following positive events. Symptoms of atypical depression include increased appetite or weight gain, sleepiness, or excessive sleep, marked fatigue or weakness, and extreme sensitivity to rejection.
In the study, 63% of the burned-out teachers had atypical depression.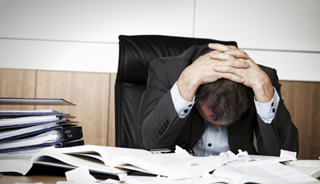 Work Burnout Can Lead to Depression
New research suggests a strong link between being disenchanted by work and depression.
City College of New York psychology professor Irvin Schonfeld, PhD, studied more than 5,500 school teachers to estimate the prevalence of depressive disorders in workers with burnout. He discovered 90% of the subjects identified as burned out met diagnostic criteria for depression.
The study also examined the overlap of burnout with the atypical subtype of depression, or depression characterized by improved mood in response to positive events.
Sign Up for Free e-newsletters