January 28, 2015
Walking Improves Employees' Mood, Stress Levels
the Psychiatry Advisor take:
Talking a walk at lunch time can significantly and immediately raise workers' moods and ability to deal with stress, according to a study published in the Scandinavian Journal of Medicine and Science in Sports.
Previous studies have only focused on the gradual, long-term effects of exercise. Walking or exercising regularly has been shown to make people more calm, alert, and happy than those who don't exercise. However, few studies have focused on the short-term effects of exercise.
The study included 56 volunteers who were told that they needed to spend 30 minutes of their lunch hour walking for three times a week. Most of the participants were middle-aged women as the researchers noted that it can be difficult to recruit male volunteers for walking programs.
Each participant underwent health and mood tests at baseline, and the researchers found that they were all out of shape but otherwise physically and emotionally healthy.
Participants were randomized into two groups -- one that started a 10-week walking program immediately, and another that started a 10-week walking program after the first group had completed theirs. The second group served as a control group during the first 10 weeks.
Both immediately before and after exercising, participants completed an app-based survey about their emotions. The participants who walked reported feeling significantly more enthusiastic, less tense, and more relaxed compared with days when they had not walked and compared with the control group.
However, many participants remarked that they would not be able to continue their walking regimen after the study ended, noting that their managers expected them to work through lunch.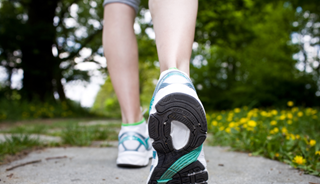 Walking Improves Employees' Mood, Stress Levels
To combat afternoon slumps in enthusiasm and focus, take a walk during the lunch hour. A new study finds that even gentle lunchtime strolls can perceptibly — and immediately — buoy people's moods and ability to handle stress at work.
It is not news, of course, that walking is healthy and that people who walk or otherwise exercise regularly tend to be more calm, alert and happy than people who are inactive.
But many past studies of the effects of walking and other exercise on mood have focused on somewhat long-term, gradual outcomes, looking at how weeks or months of exercise change people emotionally.
Sign Up for Free e-newsletters
Check out what's trending