September 15, 2014
Walking, Biking To Work Improves Mental Health
the Psychiatry Advisor take:
Walking or riding a bike to work rather than driving is not only good for the environment and a person's physical health — it may also contribute to less stress and better concentration.
Adam Martin, PhD, a health economist at the University of East Anglia's Norwich Medical School in England, and colleagues, found that workers who walked or biked to work felt improvements in concentration and said they were under less strain compared to if they commuted by car to work.
People who used public transport to commute to their jobs also reported having better psychological well-being measures, the researchers reported in Preventive Medicine.
"You might think that things like disruption to services or crowds of commuters might have been a cause of considerable stress," Martin said in a prepared statement. "But as buses or trains also give people time to relax, read, socialize, and there is usually an associated walk to the bus stop or railway station, it appears to cheer people up."
Researchers examined 18 years of data encompassing 18,000 commuters in Britain. The data included aspects of psychological health, including feelings of worthlessness, unhappiness, sleepless nights and being unable to face problems.
Results also showed that while the longer people spend time in their cars commuting negatively impacted their mental well-being, longer works to work made people feel better.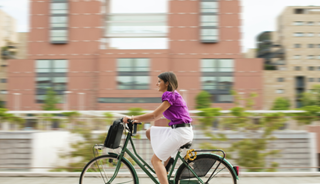 Walking, Biking To Work Improves Mental Health
Walking or cycling to work is better for people's mental health than driving to work, according to a new study.
Research by health economists at the University of East Anglia (UEA) and the Centre for Diet and Activity Research (CEDAR) in the United Kingdom found that people who stopped driving and started walking or cycling to work benefited from improved well-being. In particular, commuters who walked or rode bikes to work felt better able to concentrate and were under less strain than if they traveled by car, according to the study.
Sign Up for Free e-newsletters