March 23, 2015
Vitamin D Deficiency Linked to Depression in Young Women
the Psychiatry Advisor take:
Low levels of vitamin D may be associated with depression in young women, according to a study published in Psychiatry Research.
Previous studies have been unable to show an association between depression and vitamin D levels, but they have often focused on older adults or special medical populations. The researchers chose to focus on women in the Pacific Northwest, since this group has a high risk of both depression and vitamin D deficiencies.
The study included 185 women aged 18-25 in the Pacific Northwest who participated in the study during different parts of the year. The researchers measured their vitamin D levels from blood samples, and each participant completed a weekly depression symptom survey for 5 weeks.
Among women of color, 61% had vitamin D deficiencies compared to 35% of other women. Overall, more than one-third of the participants had clinically significant depression symptoms each week during the study. Women with low vitamin D levels were more likely to exhibit symptoms of depression.
The women's vitamin D levels tended to rise and fall with the seasons, but depression symptoms did not exhibit a similar pattern.
While the results of the study do not clearly indicate that low vitamin D causes depression, the researchers believe it creates several avenues for further study. They note that the next step is to investigate whether vitamin D supplements help alleviate symptoms of depression.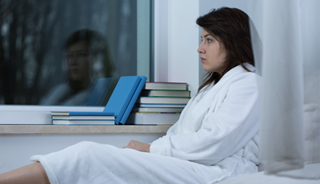 Vitamin D Deficiency Linked to Depression in Young Women
Emerging research suggests an association between low levels of vitamin D and depression in otherwise healthy young women.
Oregon State University (OSU) researchers found that young women with lower levels of vitamin D were more likely to have clinically significant depressive symptoms over the course of a five-week study.
The results were consistent even when other possible explanations, such as time of year, exercise, and time spent outside were considered, says lead author David Kerr, PhD.
"Depression has multiple, powerful causes and if vitamin D is part of the picture, it is just a small part," said Kerr, an associate professor in the School of Psychological Science at OSU.
Sign Up for Free e-newsletters