January 19, 2015
Three Subtypes of Postpartum Depression Identified
the Psychiatry Advisor take:
Researchers have identified three distinct subtypes of postpartum depression, according to a study published in The Lancet Psychiatry.
Each subtype has different implications for the patient's prognosis and best course of treatment, researchers from the University of North Carolina School of Medicine said.
The study used data from over 10,000 women that had been collected during previous studies. The researchers used latent class analysis to analyze the data.
The characteristics most important to stratifying the three subtypes were time of symptom onset (beginning during pregnancy or after birth), symptom severity, previous history of mood disorders, and whether or not the woman had medical complications during the pregnancy.
The biggest factor for more severe postpartum depression was time of symptom onset. Women whose symptoms started during their pregnancy had a higher risk of more severe postpartum depression compared with women whose symptoms started after birth.
The results indicate the importance of carefully assessing each woman's history in order to properly treat their postpartum depression.
The study is a part of an international research consortium called PACT (Postpartum Depression: Action Towards Causes and Treatment), founded and co-led by University of North Carolina researchers in the departments of psychiatry and genetics. The consortium includes over 25 researchers from seven countries.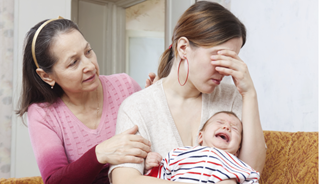 Three Subtypes of Postpartum Depression Identified
When it comes to postpartum depression, one size does not fit all, according to a new study led by University of North Carolina School of Medicine researchers.
Instead, women with postpartum depression may experience any of three distinct subtypes of clinical presentation, and each of these has important implications for their prognosis and the tailoring of treatments, the researchers found.
"Clinicians should be aware of the diverse presentation of women with postpartum depression," said Samantha Meltzer-Brody, MD, MPH, director of the Perinatal Psychiatry Program at the UNC Center for Women's Mood Disorders and corresponding collaborator of the study, which was published in the January 2015 issue of The Lancet Psychiatry.